Profile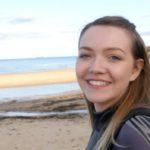 Beth Clark
Curriculum Vitae
Education

I went to Old Town Junior and Infants School, near Hebden Bridge and The Crossley Heath School in Halifax.
Since school I have studied at the Universities of Warwick, York and Bangor,

Qualifications

I have GCSEs in Maths, English, Science, ICT, Geography, History, Religious Studies and German.

I took A levels in Biology, Chemistry, English Language, History and General Studies, and did a Certificate of Higher Education in Health and Social Care with the Open University along side my A levels.

I got a first class BSc (Hons) in Biological Sciences from the University of Warwick.

I then completed my MSc (masters degree) in Marine Environmental Management, with distinction, at the University of York.

I am now doing my PhD at Bangor University in Ocean Science.

Work History

Whilst at school I worked at a horse riding stables.

During university I worked in the university library, and I did internships with Unilever and nPower, and went to work again for Unilever after finishing my masters degree.

Current Job

I am currently doing a PhD at Bangor University, but last summer I also did a placement with the Cabinet Office.

Employer

I am doing my PhD at Bangor University, based in the School of Ocean Sciences. Bangor is in North Wales, and the school is based on the Isle of Anglesey, which is a beautiful part of the world to work and live.
About Me:

I am a PhD student at Bangor University studying deep water ecosystems in Hawai`i.
I am an animal lover and have one dog and six chickens at the moment.
I also love sea swimming, dancing and doing yoga.

Read more

My name is Beth and I am originally from Hebden Bridge in West Yorkshire.

I now live in North Wales with my husband Andy. We have a beautiful dog called Nina, and six chickens – Bren, Petula, Babs, Jean, Dolly and Glen.

I enjoy sea swimming, dance and yoga in my spare time, and have been a vegan for about 3 years.

My pronouns are she/her.

My Work

My work is all about deep water fish, shrimp and squids. I look at how being near to islands in Hawai`i might mean we get more of these animals 500 metres below the surface.

Read more

My research looks at how increases in primary production near to islands might affect deep water communities. I focus specifically on mesopelagic micronekton (which are small organisms between 2 – 20cm, including fish, shrimp and squids), 500 metres below the surface in Hawai`i.

This is a short animation about my research

As part of my research, I have been out to Hawai`i twice, and lived at sea for almost half a year cumulatively. Being out in the ocean is amazing and we get to see some pretty spectacular looking animals. As well as the crazy deep water organisms, I have also seen a lot of dolphins, whales and sharks.

My Typical Day:

Onboard a ship, my typical day involves waking up at about 5pm for dinner. My work starts as the sun sets and we set up all the equipment. We spend all night counting the animals we catch, and go to bed after breakfast.

Read more

My typical day is actually quite boring to talk about, as most of my time is spent at a computer analysing the results of my research. It is very interesting, but doesn't sound particularly glamorous.

My favourite parts of my research are doing field work or working in the lab. In the field, I will spend about a month living onboard a ship. In that time we don't go back to shore at all, and sometimes don't get to see land for weeks at a time.

The work I do onboard ships is all at nighttime, so I have to become nocturnal. I wake up at about 5pm and start the day with my dinner, which is always very weird! After dinner, at about sunset we start preparing the equipment we will need, and then spend all night catching and counting animals from the deep. We are usually finishing work as the sun rises again, which is my favourite time of the day, most days we will be joined by a friendly pod of dolphins. I then have a shower, because I will almost certainly be covered in fish guts at that point, and if I have the energy I will stay awake to have breakfast, before going to bed.

My Interview

How would you describe yourself in 3 words?

Adventurous, caring, passionate

What or who inspired you to follow your career?

Like many people in environmental science, David Attenborough was a huge inspiration to me growing up. My real inspiration to go into marine biology though came from an amazing professor who taught me at the University of Warwick - Professor Charles Sheppard

What was your favourite subject at school?

I loved science and history

What did you want to be after you left school?

When I left school I wanted to pursue my love of biology, but I didn't know exactly what I wanted to be.

Were you ever in trouble at school?

I was always well behaved at school, but I did get in trouble once for trading pokemon cards in a lesson when I was 8

If you weren't doing this job, what would you choose instead?

I think I would have really loved to be a midwife or obstetrician and deliver babies

Who is your favourite singer or band?

I love Jack Johnson's music, and am a big fan of Beyonce.

What's your favourite food?

I love pretty much all vegetables.

What is the most fun thing you've done?

I am so lucky, I have had a lifetime of amazing experiences. One of my highlights though was diving in a marine protected area in Fiji. I jumped off the boat and looked down and I couldn't see for sharks. I am a huge shark lover and that moment was pretty special.

If you had 3 wishes for yourself what would they be? - be honest!

I really want to build my own house, and have loads of animals. I also hope I can do something which makes a difference to the world.

Tell us a joke.

What do sea monsters eat? Fish and ships (not my joke, I am awful at jokes!)

My profile link:
https://ias.im/u.257218
---
---
---
---